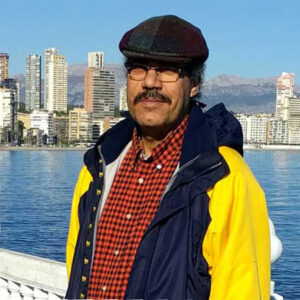 Growing up in Morocco, Amar Almasude focused on languages and linguistic and social rights of the indigenous people of North Africa. In addition to his mother language, Tamazight, he learned Darija (Moroccan Colloquial) and studied Arabic, French, Spanish, and English. He also taught these languages and translated/interpreted them for several years.
After Amar's arrival to the United States, he had another opportunity to learn English while attending Pierce College, the Evergreen State College, and Ohio University. The university environment allowed Amar to continue his interest in the linguistic and human rights of indigenous people in North Africa. When Amar received his first full-time academic position at Francis Marion University, he supported students and faculty with their interests in international issues. He also played a part in the International Club, the French Club, and the Spanish Club; he contributed to the Arts International Festival and the International Festival.
Amar has worked at several corporations and agencies (such as Inspirational Films, CYRACOM International, Medi-Trans Inc. (MTI), Language Unlimited, etc. ) and held various positions at several universities, including Ohio University, Francis Marion University, The Art Institute of Pittsburgh, Capella University, Walden University, Dhofar University (Oman), and Full Sail University and Grand Canyon University. Amar's primary involvement has been with Doctoral Research and teaching courses and workshops on Educational Technology, Instructional Design, Interactive Design, Multimedia Development, Video/Television Production, and Research. In addition, Amar has served as a consultant for various government and private agencies.