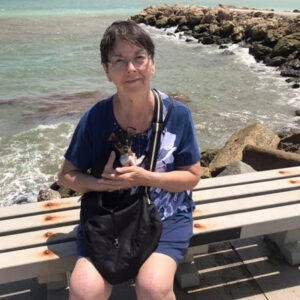 Kathryn Jane Shaw Pettit, who prefers to be called Kay Pettit, was born in Marietta, Ohio, in 1942. The fondest memories of her 1940s childhood are caring for, reading, and telling stories to her little brother and sister.

Kay married her sweetheart, Joe, a year after graduating high school. They soon began their family. It was challenging to attend college with little children in the 1960s, so she put aside her plans to become a teacher and focused on her three little girls and their family farm.

Kay and her husband were foster parents from 1968 to 1974. They cared for more than 30 foster children. She had as many as five foster children, all under five years old at one time. Poor health caused her to have to look for a less strenuous job. She worked as an outreach worker for the Community Action Program and then worked for one year as a teacher's aide in a country school. Success in this job and circumstances (her youngest daughter would be in second grade) allowed her to fulfill her dream finally, and she began college in the fall of 1977. The whole family moved from their farm near Marietta, Ohio, to Ohio University's family housing apartments in Athens, Ohio!

Kay earned a BS Degree in Education in 1980 and a Master's Degree in Computers and Technology in Education in 1998, both from Ohio University. Kay taught special education in the Marietta City School District (elementary level) for 27 years. She enjoyed helping children learn to read and write, especially with technology in the classroom. Kay feels books promoting good character are very important, so they are her favorite.
Kay edited the following title(s):